MAKE CHRISTMAS SPECIAL & LET THE KIDS SAFELY DECORATE THEIR OWN TREE!
Inspire creativity and design with the Mini-Me™ Kids Christmas Tree! Simply pin the tree up on a wall and let the kids go wild!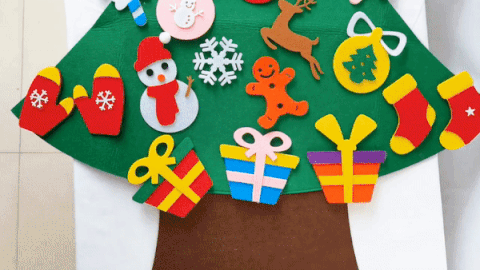 - KIDS LOVE DECORATING -
Give your kids the freedom to decorate the tree the way they like! With the ability of pinning the tree at the appropriate height, you can have peace of mind knowing the kids can safely design the smaller tree and leave the larger one alone!
- ABUNDANCE OF DECORATIONS -
The tree also comes with tons of ornaments (also made with same high quality heavy felt) these also attach with stitched velcro tabs unlike cheaper glued ones. Bells, presents, snowman, candy and snowflakes are some examples of the fleet ornaments included.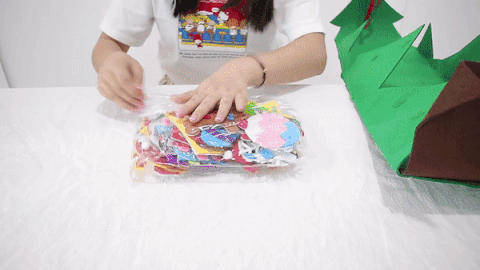 - INSPIRES CREATIVITY -
It's not everyday your child can create and build the Christmas tree themselves. For young developing minds, the bright and colourful shapes of the tree can be a wonderful experience!
- PARENT & CHILD BONDING -
Spend time bonding with your little one decorating the tree together. It makes the perfect "early" Christmas gift for everyone to enjoy! Also makes a great gift idea for children aged 2-10 years old.
- STURDY & DURABLE -
The tree is made from heavy, high quality felt and the ornaments are stitched not glued. The felt is environmentally friendly and safe for your kids to use. The tree is foldable packing and you can use the iron to avoid wrinkles and make the tree perfect. Being this durable means the tree will last for years!
FREQUENTLY ASKED QUESTIONS:
Q: How much is the shipping cost to my country?
A: Shipping is absolutely FREE, wherever you are in the world! You will also receive a tracking number. No need to blow the budget this Christmas😊
Q: Is the tree safe for my child to use? Could they choke on anything?
A: Yes the tree is safe to play with. It does not contain any nasty chemicals or residues. The velcro tabs are stitched onto the ornaments, so there is no chance they can be a choking hazard. The ornaments themselves are too big to be swallowed or eaten.
Q: Is the tree "Santa" approved?🎅
A: We can't give away too much information but the big guy has told us his Elves love it🤫